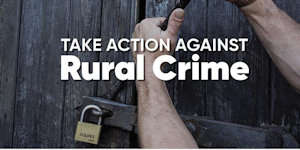 Avon and Somerset Police are reminding farmers and landowners about the importance of marking vehicles and machinery to make them less attractive to steal.
Agricultural machinery and vehicle theft is one of the most prevalent types of rural crime, with the cost of stolen property running into tens of millions each year. Farm trailers, which are in high demand and relatively easy to steal, are the most common target.

Police recommend marking all vehicles and machinery with Data-tags.

Data tagging is a multi-layered security system, using tiny electronic transponders and a unique identification code, hidden on the vehicle or piece of machinery.

It means that should the vehicle or equipment get stolen, the lawful owner can be identified, even if other identification numbers have been removed.
Evidence has shown that Data-tagging makes it four times less likely that a vehicle or item of machinery will be stolen, and six times more likely that it will be recovered if it is stolen.

The NFU says rural crime is costing millions of pounds each year and also has a significant impact on the mental well-being of farmers.

They support the data tagging of vehicles and machinery, as it helps to deter thieves, and increases the chances of recovering what has been stolen.