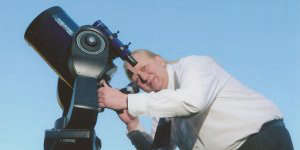 Monday 26th September to Sunday 2nd October 2022
On Monday 26th it's the turn of Jupiter to be at opposition, when it will be at its brightest with an apparent magnitude of -2.8. If you go outside just after dark, Jupiter will have risen above the horizon a little south of due east. Looking further south, Saturn will be there shining at a magnitude of around +0.5 which is very confusing as Jupiter will be the brighter of the two! When I did maths at school +0.5 was bigger than -2.8 so what's going on?
The apparent magnitude scale works back to front and the brighter an object is, then the more negative its magnitude figure will be. The brightest star in the night sky, Sirius, has a magnitude of -1.4 and a Full Moon is around -12.9 or in other words, much brighter. From a dark sky location with the naked eye, it is possible to see objects down to a magnitude of around +6. Binoculars will enable you to see slightly fainter objects down to a magnitude of +8. Any dimmer than that is "telescope territory". To put that into context, our own Sun has an apparent magnitude of -26 which is why you never look at it through a telescope!
I'm often asked how much my telescopes magnify things, but that is not really the correct question! The question should be regarding how much light the telescope collects - the larger the aperture (or the bigger the hole in the front) then the more light the telescope can collect. Once as much light as possible has been collected, then the magnification is a function of the eyepiece.
To learn more about this, why not come along to one of my Stars Over Somerset lectures at Ham Hill on 21st October and 18th November. Details are at www.starsoversomerset.com
Screenshots courtesy of Stellarium
Copyright Adrian Dening and Radio Ninesprings 2022