Local Dive Experts Dive Academy are running a 'Protect our Oceans' poster competition for youngsters aged between 4 & 14.
Over 13 BILLION plastic bottles are bought every year in the UK and over 5.5 BILLION aren't recycled. These become litter on land and in the sea, are sent to landfill or are incinerated.
Plastic in the ocean seriously affects everything that lives in the sea – it injures and traps birds, mammals and fish and enters the human food chain when we eat fish and seafood.
We all love the ocean and the wildlife that lives there and we want to protect it from plastic waste.
PADI Aware week 2021 takes place this year from 18th-26th September. This is where the global diving community looks to place special focus on environmental awareness. To mark the occasion we'll be creating a special window display in our Quedam shop highlighting the damage plastic can do.
​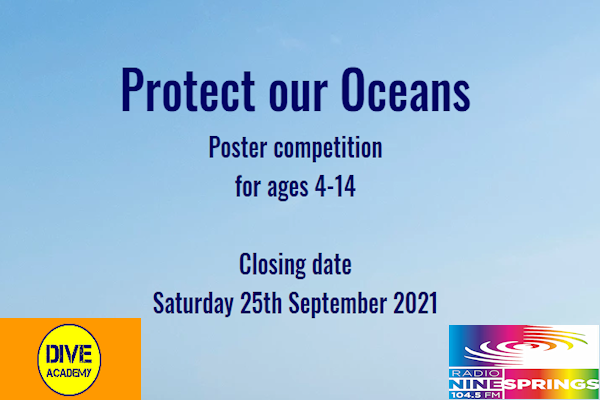 There's a poster competition for young people aged 4-14 with the wider theme "Protect Our Oceans".
Your poster could hang in our window for a week in October and you could win some amazing prizes!
Ages 4-7
Win a Sea Friends
snorkeling Set
Ages 8-9
Win a PADI Bublemaker experience
Ages 10-14
Win a PADI Discover Scuba experience
Victoria Welton
Victoria is a presenter on the local radio station for Yeoviol & South Somerset, Radio Ninesprings where she hosts the weekday Home Run show which offers an hour of great music, ideas to keep kids occupied, a daily poem and a wealth of local information. In addition to her passion for music Victoria is also an award-winning photographer and has an eye for a great image.
Frank Summers
Frank is a PADI Master Scuba Diver Trainer and Dive Academy's lead instructor for youth courses including Seal Team and Master Seal Team. He is passionate about protecting the marine environment and regularly delivers environmental awareness lessons to our
younger divers.
Louise Hector
Louise is a PADI Divemaster and a Director of Dive Academy. She has been lucky enough to dive in some of the world's most beautiful seas which has made her determined to share the importance of protecting our oceans with everyone. A former Brownie and Beaver Scout leader, Louise is always looking for ways to involve young people in diving and ocean protection.
The closing date for the competition is Saturday 25th September 2021.