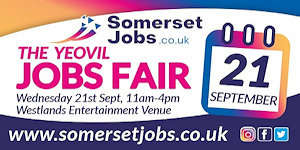 Come along to the Yeovil Jobs Fair this September and Find Your Future!
We are delighted to hold our first jobs fair in Yeovil at The Westlands Entertainment Venue.
Around 40 exhibitors will be available on the day and you're invited to attend. We plan to offer a varied range of sectors and lots of vacancies will be available plus it's the perfect opportunity where you can meet the recruitment teams.
A list of exhibitors is available soon and don't forget to check out what jobs are listed on our website.
Plus visit our latest blog, 10 top tips to job fair success.
We are planning to have a Ukraine translator available on the day as well.
See you at the Yeovil Jobs Fair, simply register to attend as a job hunter.
Recruiters / exhibitors:
We are now accepting bookings for this event. For full details and to book please use this link – https://forms.gle/Nwkurhb3m3Q2tRis6
If you'd like to get notified of future job fairs please use this link – https://forms.gle/Sr7Z75jHWc1RrofC9